Challenger vs Mustang vs Camaro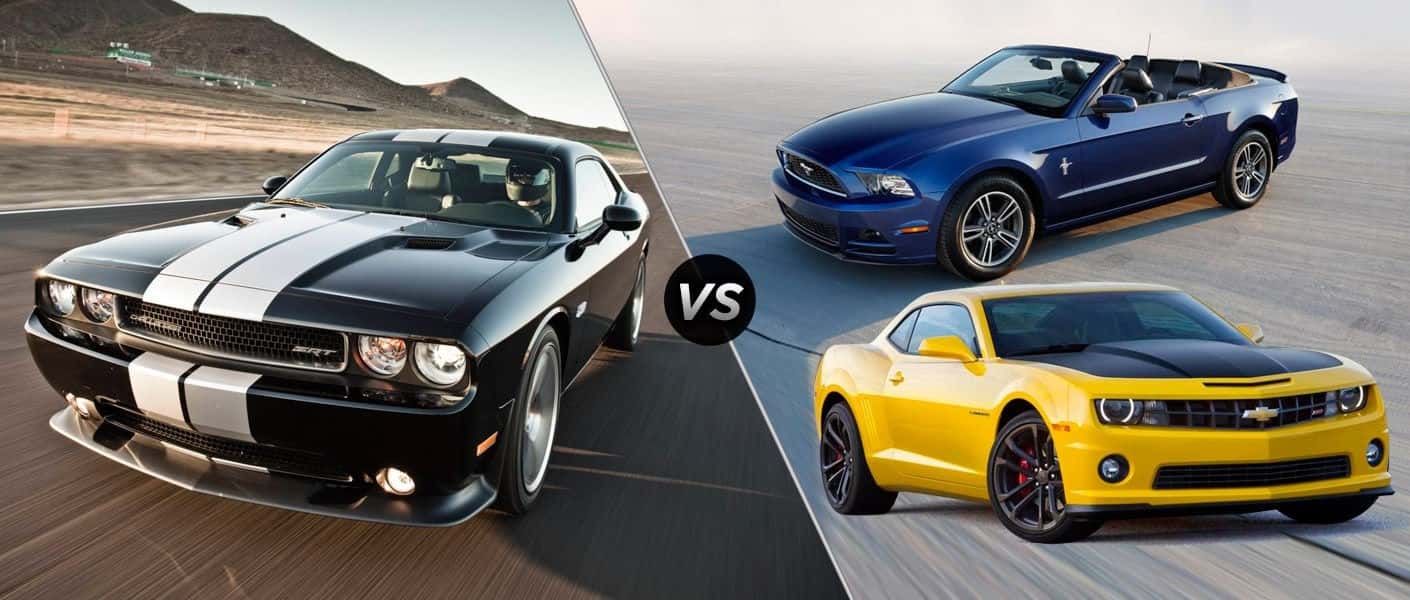 2013 Dodge Challenger vs 2013 Ford Mustang
When comparing the 2013 Dodge Challenger vs 2013 Ford Mustang, there are several ways to look at it. Each car comes in a base V6 model, but also features more powerful options for consumers that want to take it to the next level. In the base models, the Challenger keeps up well in fuel efficiency with the smaller Mustang thanks to its award-winning 3.6-liter V6 under the hood. Even the horsepower numbers are identical. But the Challenger separates itself by also having some practical elements, with a large rear seating area and trunk space that allows it to feature 16.2 cubic ft or cargo capacity.
The Challenger also comes in R/T and SRT8 trims which allow it to keep pace with the Mustang GT just fine. The Challenger R/T with a 5.7-liter V8 boasts 375 horsepower while the SRT8 with a 6.4-liter V8 has output of an awesome 470 horsepower.
2013 Dodge Challenger vs 2013 Chevy Camaro
The Chevy Camaro is another popular sports car on the market. Similar to the Mustang, the Camaro is much smaller than the Challenger. Therefore, it gets a little better fuel mileage and horsepower in the base V6 editions. But also like the Mustang, the Camaro doesn't offer much other room, only seating four and offering 11.3 cubic ft of cargo space. The Challenger can seat five comfortably and boasts an impressive 16.2 cubic ft of cargo space.
The Challenger R/T and SRT8 allow the car to provide some serious muscle to allow it to keep up with the Camaro SS and other models. The 5.7-liter V8 (R/T) and the 6.4-liter V8 (SRT8) make the Challenger a pure power option on the market as well.